Foundation
It started all in 2013 with Mr Dub Architect asking his fans to join him on plug.dj to talk about and listen to their favorite Music together. Levi just moved to Berlin and we were amazed by being able to listen to music together. In the following week started our own channel which surprisingly actually attracted dub loving people from all over the world. In need for a fancy name Levi did his random Wikipedia thing and we settled on Sosnowka as our name.
As there is kind of a small reggae scene, but not a great dub scene in our hometown we started talking about doing something to bring our favorite style of music forward. And so it happened that finally in anticipation of the 29th Edition of the annual Summerjam Festival in Cologne we attend for some years now we started to collect our favorite tracks. We both were not sure about licensing and what you may actually do, but we wanted to start this correctly, so we first decided to concentrate on the music you can get for free over the internet. The outcome was our first Compilation entitled "Free Dub Vol. 1". With the help of our friend Peter we were able to produce some physical copies in time to give away at Summerjam.
The Sosnowka Family
Junior Levi
At one point, Levi might say something about himself here. In the meantime you may read (mostly) his blog over at blog.sosnowkadub.de.
Levi's introduction mixtape:
Ras Skirata
Ras Skirata, also known by his real name Kim, was first confronted with music in preschool age, where he learned how to read sheet music, and very soon began to play the Soprano and later Alto Recorder. He also learned to play the piano for about a year and took some weeks of drumming lessons. In High School Kim started experimenting with computer based music production. The results can be heard on his soundcloud.
This was also the time he started to interest himself in listening to music. Beginning with relatively popular music like Linkin Park, he was attracted by the "Dubstep Hype" around 2010 he was infected with Bass and Rhythm. The most relevant title to mention here would be Butch Clancy's Russian Lullaby, which he got in contact with by a remix video of the film inception (view on YouTube). Driven by the great activity of the scene, he dug himself into the Genre, resulting in learning about it's roots and also the music industry in general.
When Kim got in contact with Levi, who was already all into reggae at the time, Kim bridged the gap from the other dubstep tune he loved from the beginning, Vapire Dub by Doctor P (listen on YouTube), to jamaican bass music. (more to come)
Ras Skirata's introduction mixtape:
Click for a likkle more off-topic info

Kim finished school in 2012 and since then studies informatics (computer science) with focus on electrical engineering in his home town at RWTH Aachen University. He is interested in everything computer and technology, ranging from programming, tinkering with audio equipment to playing computer games, where he especially loves the science fiction universe of Mass Effect. His favourite movies involve either science fiction or at least somehow crazy or stupid (like comics) and include Star Wars, Watchmen, Pulp Fiction, Scott Pilgrim vs the World, Kick-Ass, Iron Man, Rubber, ... Sometimes he likes to read the original (Watchmen, Scott Pilgrim) or derivative media (Star Wars, Mass Effect).
Peter Skarres
Peter's introduction mixtape:
Equipment
In summer 2013 Kim got a KORG Kaossilator 2 which we call our "Mr. Oizonator" ever since due to the crazy sounds it creates, instantly reminding us of Mr Oizo (aka Quentin Dupieux).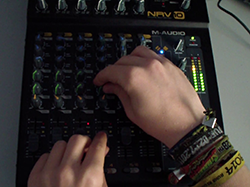 Just before Summerjam Peter got a Bose SoundLink III which is still used as our boombox while out in the streets or while travelling (i.e. festivals).
In early autumn 2014, we extended our arsenal by Peter buying a Denon DJ MC2000 digital turntable controller.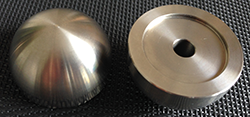 In spring Peter got some more equipment, namely a turntable (Technics remake) and a M-Audio NRV10 studio mixer.
The latest addition are two hemisphere brushed steel pucks the crew got Peter Skarres for his birthday in spring 2015.